Testimonials
"Arque consulting have consistently delivered great advice and fantastic service to us for all of our varied financial accounting needs across all of our business interests, we would have no hesitation in recommending them"
Rupert Walsh
AHPS/Bankside Consulting/GroupVest Plc Visit the website
---
"We have been working alongside Andrew Snelgrove and his team for some 16 years and have found the company to be most helpful at any level. My management accounts have been produced every month for all those years and preparation for the annual audit has always been carried out with the utmost efficiency. Their understanding at all levels of accountancy is excellent and come with our recommendation at a high level. They also manage my payroll and have done so for some 5 years now and take care of all the returns necessary for the smooth running of my company. This again is carried out with professionalism that you would be proud to be associated with.."
Essex Fabrications Limited
---
"I've worked with Rob and Martin at Arque Consulting since 2011 and trust them to run the practicalities of our finances: VAT returns, management accounts, financial admin and payroll. Perhaps most valuable is working with entrepreneurial finance people, who can discuss business budgets and financial planning.
I thoroughly recommend Rob and his team."
Ally Maughan - People Puzzles Ltd Visit the website
---
"Arque Consulting have been our retained accountants since 2003. In that time, their support and input into existing systems and flexible approach to working with us in a proactive manner has allowed Ayerst to further develop and grow. Clear and simple accounting for the business professional, they are always willing to assist in adopting new schemes to benefit the company and it's staff such as staff incentive schemes and efficient management accountancy." 
Ayerst Environmental Limited Visit the website
---
"We have dealt with Mr. Snelgrove and his team at Arque Consulting for over 20 years doing our accounts for both our companies. We have always found them to be very professional at all times, and the quallty of all our accounting and tax work is always of a high standard. If we have ever had any quires ranging from accounts tax and employee/employer rights etc., they have always been dealt with speed and efficiency . Over the last 20 years we have recommended the company to many people and have never had a complaint about our recommendations, we would never hesitate in putting forward Mr. Snelgrove and his team and we would like to wish them all the best in the future."
Moreland Electrical Limited Visit the website
---
"We have used Arque's services since 1995, throughout this time we have always been impressed by their professionalism, "can do" attitude and flexibility. In a world of ever increasing red tape, Arque are fantastic at focussing us on what really matters and alleviating this burden. We highly commend them to any SME who is looking for an efficient accounting / payroll service but also in truth a very welcome hidden partner to your business."
Hawker Joinery Visit the website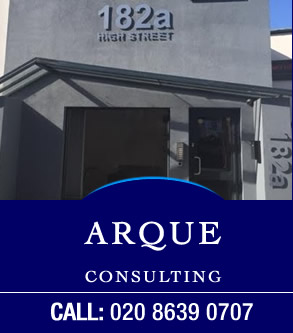 Get In Touch
Checking...
Ouch! There was a server error.
Retry »
Sending message...
Please complete the form below and we will be in touch soon